WPC Decking Profile Production Machine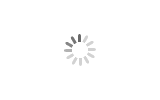 WPC Decking Profile Production Machine
FUNGWAH

Jiangsu,China

45 Days

10 Sets/Month
Application: Sheet, Profile, Plates
Plastic Processed: WPC
Condition: New
Screw Design: Double-screw
Twin Screw Type: Counter-rotating conical Twin-screw
Screw diameter (mm): 132 mm
Screw L/D Ratio: 33:1
Screw Speed (rpm): 110 rpm
Product Description
WPC Decking Profile Production Machine
Hot sales
| | | |
| --- | --- | --- |
| Item | component | quantity |
| 1. | double screw extruder | 1set |
| 2. | mould | whole 1set |
| 3. | vacuum calibration tank | 1set |
| 4. | hauling machine | 1set |
| 5. | cutter | 1set |
| 6. | stacker | 1set |
detail descriptions;
1. extruder specification
| | | | | | | |
| --- | --- | --- | --- | --- | --- | --- |
| Model | YF180 | YF240 | YF300 | YF400 | YF500 | YF600 |
| Max. width of product(mm) | 180 | 240 | 300 | 400 | 500 | 600 |
| Extruder model | SJSZ55/110 | SJSZ65/132 | SJSZ65/132 | SJSZ65/132 | SJSZ80/156 | SJZ80/156 |
| Max. extrusion capacity(kg/h) | 150 | 250 | 250 | 250 | 360 | 360 |
| Extruder power(kw) | 22 | 30/37 | 30/37 | 30/37 | 55 | 55 |
| Cooling water(M3/h) | 5 | 7 | 7 | 8 | 10 | 12 |
| Compressed air(M3/min) | 0.2 | 0.3 | 0.3 | 0.3 | 0.4 | 0.5 |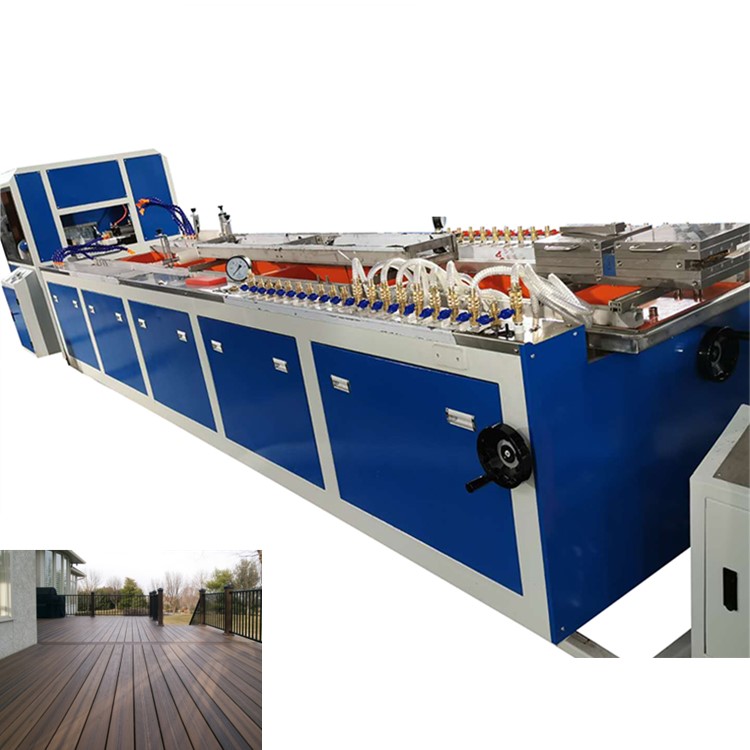 Pipe or Profile extrusion is extrusion of a shaped product that can be a variety of configurations but does not include sheet or film products. Profile extrusion can include solid forms as well as hollow forms. Products ranging from tubing to window frames to vehicle door seals are manufactured this way and considered profile extrusion.
To process hollow shapes a pin or mandrel is utilized inside the die to form the hollow sections. Multiple hollow sections require multiple pins. To create these hollows a source of air is required to allow the center of the product to maintain shape and not collapse in a vacuum. Usually an air source will be utilized to keep the correct airflow in the cavity.
Wood Filled Plastics
Wood-plastic composites (WPCs) are composite materials made of wood fiber/wood flour and thermoplastic(s) (includes PE,PP, PVC etc.).
Chemical additives seem practically "invisible" in the composite structure. They provide for integration of polymer and wood flour (powder) while facilitating optimal processing conditions.
In addition to wood fiber and plastic, WPCs can also contain other ligno-cellulosic and/or inorganic filler materials. WPCs are a subset of a larger category of materials called natural fiber plastic composites (NFPCs), which may contain nocellulose-based fiber fillers such as pulp fibers, peanut hulls,bamboo, straw, digestate, etc.
Wide Range of Applications
Wood plastic composites can successfully replace pure natural products thanks to their longer life and other beneficial properties. Such as decking and fencing elements, roofing ,trellises and door-frame profiles, picnic tables, benches .landscape timber, patios,gazebos and walkways, playground equipment.
Main Features Of Extrusion Line:
- Extruder adopts WPCd dedeciated screw, make sure best plastisizing effect, furhter make sure best final product shape
- Extruder speed and haul off speed controlled by ABB frequency inverter, saving power and easy adjusting speed
- Extruder temperature adopt PID control, temperature fluctuation self adjusting, it realise the high automatic level
- Equipped with infrared tracking device which can elimintate the problem of fluctuation of extrusion flow rate, further can make sure get best product
- Lower power consumption, it can save 25-30% electrical power consumption comparing with most same kind PVC ceiling extruder.
- Economical price, suitable for large scale investment.
Mold part for pvc door and window profile extrusion line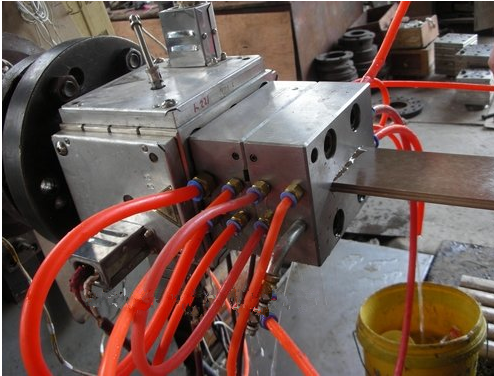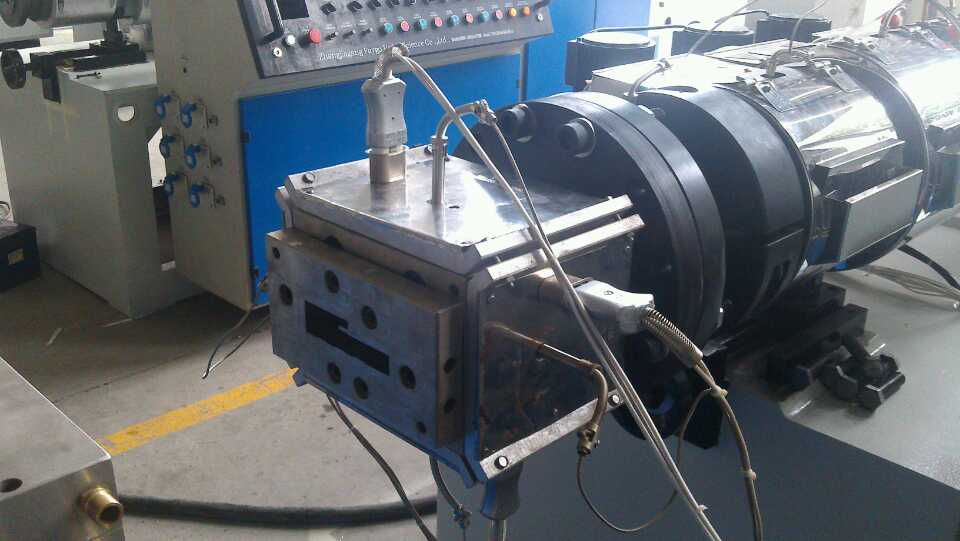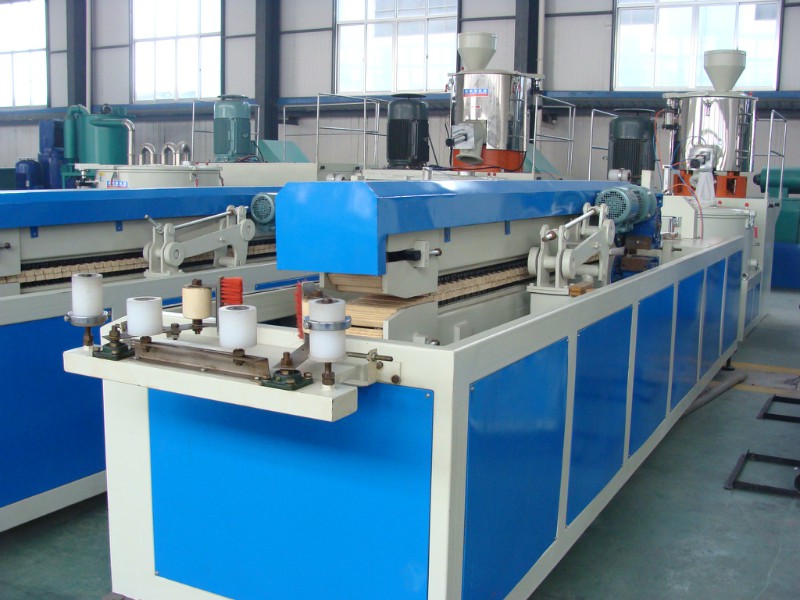 Vacuum calibration table for pvc door and window profile extrusion line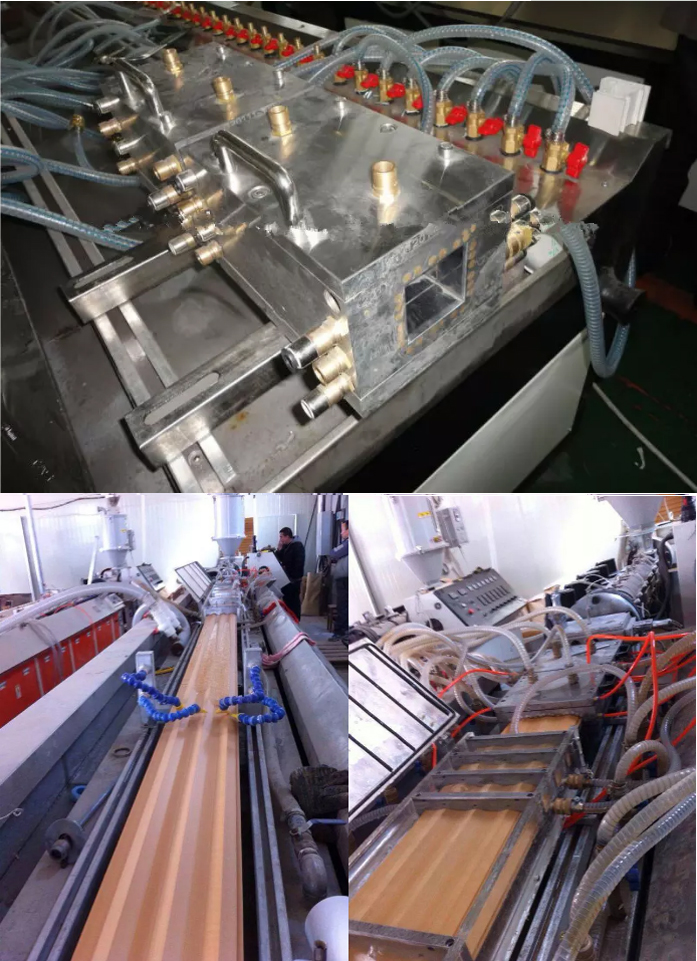 Hauling machine for pvc door and window profile extrusion line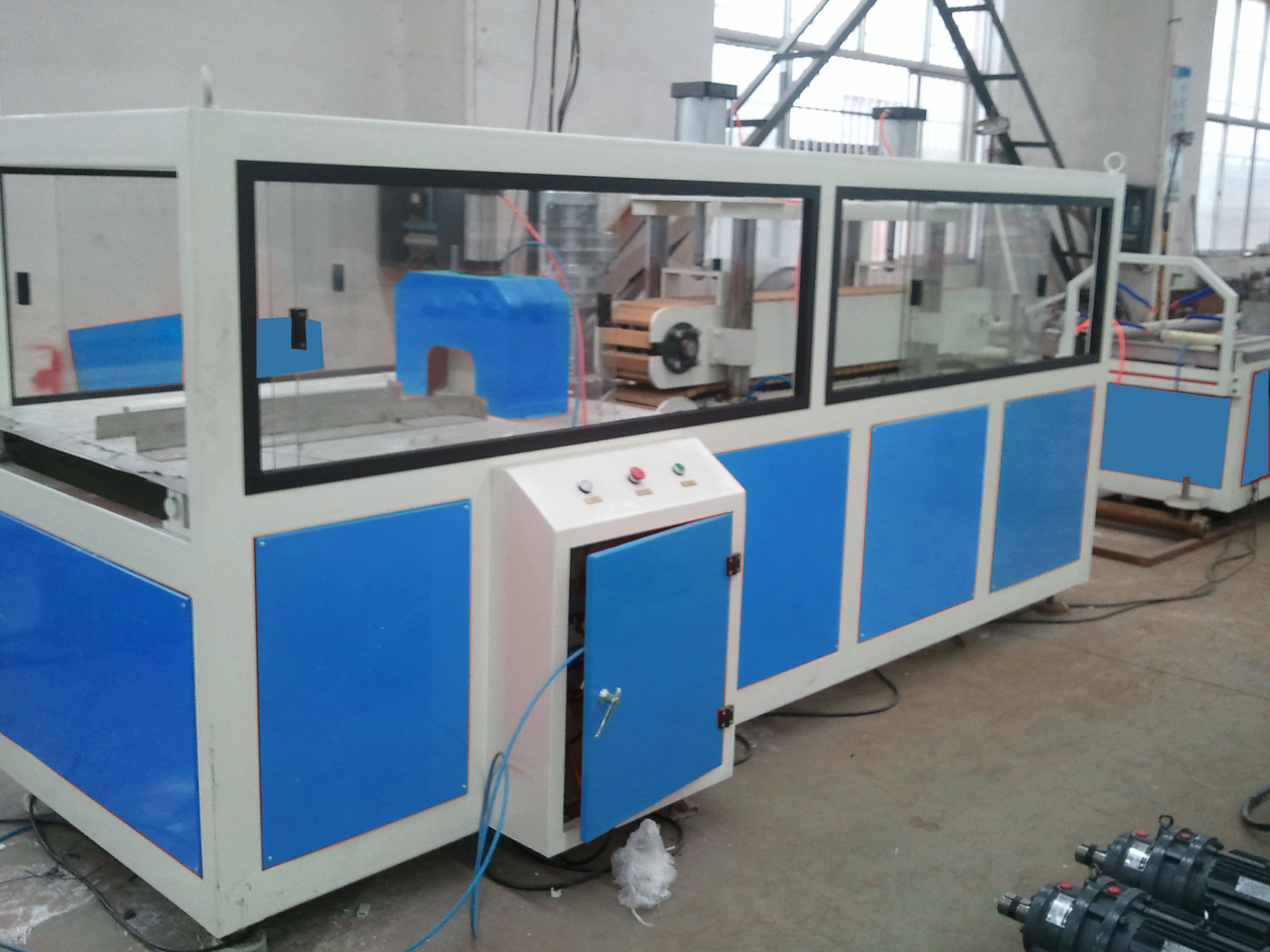 Other auxiliary machine in pvc door and window profile extrusion line
Any question about WPC Decking Profile Production Machine, please feel free to contact us ,
we are pleased to recommend suitable scheme and production configuration for you specially!